Irish Breakfast Band's
3rd Recording (2015)
At Home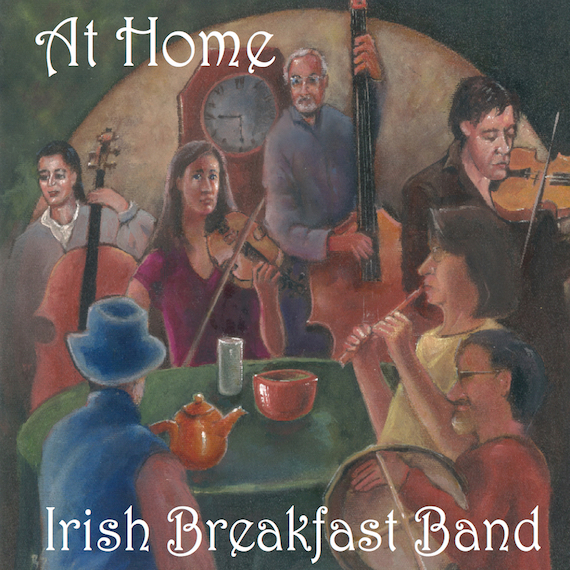 Available at our Concerts or from cdbaby through this link
The Irish Breakfast Band, in its third decade, offers its third recording. Traditional Irish music has kept us together over the years of Saturday morning breakfasts, practices, sessions, and performances. We have welcomed new members, including some of our own children. Making music with friends and sharing the tradition with family, neighbors and the community is our delight.
Tracks:
The Banks of Inverness
Redican's Mother/ The Humours of Derrycrossane
Jannie's Jig/ Max and Lynn's Wedding Jig/ The Wedding Party (by Karen Helbrecht and Gordon Johnston)
The Listowel Hornpipe/ Dunphy's Hornpipe
She Didn't Dance/ Haste to the Wedding
Peeler Creek/ Sonny's Mazurka/ The Irish Mazurka
The First Night in America/ The Bird in the Bush/ The Rose in the Heather
Dr. Cleave's Farewell to NASA (by Gordon Johnston)/ Planxty Sean Doherty (by Martha Beall)
The Musical Priest/ Toss the Feathers/ The Banshee
Yellow John/ Trip to the Cottage/ Yellow John
Fisher's Hornpipe/ The College Hornpipe
The Coast of High Barbary
A Fig for a Kiss/ Another Jig Will Do/ A Fig for a Kiss
Paul Linehan's/ Rosie Finn's Favorite/ The Desmond Ceili Band Slide
Johnny O'Leary's Polkas #1 and #2
All tunes traditional, except as noted. Arrangements copyright Irish Breakfast Band. Jannie's Jig, Max and Lynn's Wedding Jig, the Wedding Party and Dr. Cleave's Farewell to NASA performed with permission from Karen Helbrecht and Gordon Johnston. Planxty Sean Doherty performed with permission from Martha Beall.
On this recording:
Lisa Anderson, flute/ whistle
Sebastian Barajas, fiddle
Becky Bates, flute/ whistle
Martha Beall, piano
Jonathan Cagle-Mulberg, percussion
Abbie Desrosiers, flute/ bodhran
Jackie Desrosiers, ukulele
Sean Doherty, fiddle
Katie Duffy, mandolin
Marcia Finnerty, concertina/ whistle
Melissa Gouffray, fiddle
Peter Hayes, fiddle
Karen Helbrecht, banjo/ cello/ bouzouki/ bones
Sandy Hoar, fiddle
Gordon Johnston, fiddle/ viola/ guitar/ bouzouki
Maggie Johnston, fiddle
Jannie Johnston, fiddle
Kate Keating, fiddle
Steve Keating, fiddle
Sue McIver, dulcimer
Joyce Mercer, fiddle
Chuck Moran, percussion/ vocals
Rick Netherton, bass
Maddy O'Neill-Dean, guitar/ vocals
Tom Van Wagner, fiddle
Tom Waters, whistle/ pipes
Our thanks to Josh Dukes who produced this recording and coached us in its preparation, to Myron Bretholz for the liner notes and to Brendan Sheridan for the cover art. We are honored to be associated with these three wonderful and knowledgeable musicians.
Produced by Josh Dukes.
Recorded and mixed by Chris Murphy, RHL Audio
Mastered by Randy LeRoy at Airshow, Takoma Park, MD
Liner notes by Myron Bretholz, except those for Tracks 3, 7, 8 by band members.
Art Direction and Design by Bruce Milton, Alexandria, VA

Current web page maintenance by Gordon Johnston. Last update May 14, 2016.
Return to the Irish Breakfast Band Main Page.